The beluga whale Hvaldimir
Hvaldimir is a beluga whale that fishers near Hammerfest in northern Norway noticed in April 2019 wearing a camera harness; after being freed from the harness, the whale remained in the area and appeared to be used to humans.
Seeks human contacts
The beluga whale clearly seeks human contact and can do various tricks in the water. It was first believed it had fled from a Russian naval facility for training of marine mammals. It was later claimed that it previously had served in a therapy unit for sick children in the Russian White Sea area.
The name Hvaldimir
Hvaldimir is not a misspelling of the Russian name Vladimir but a play with the Norwegian word for "whale" that is "hval" [va:l] in Norwegian since they expect that Hvaldimir is from Russia.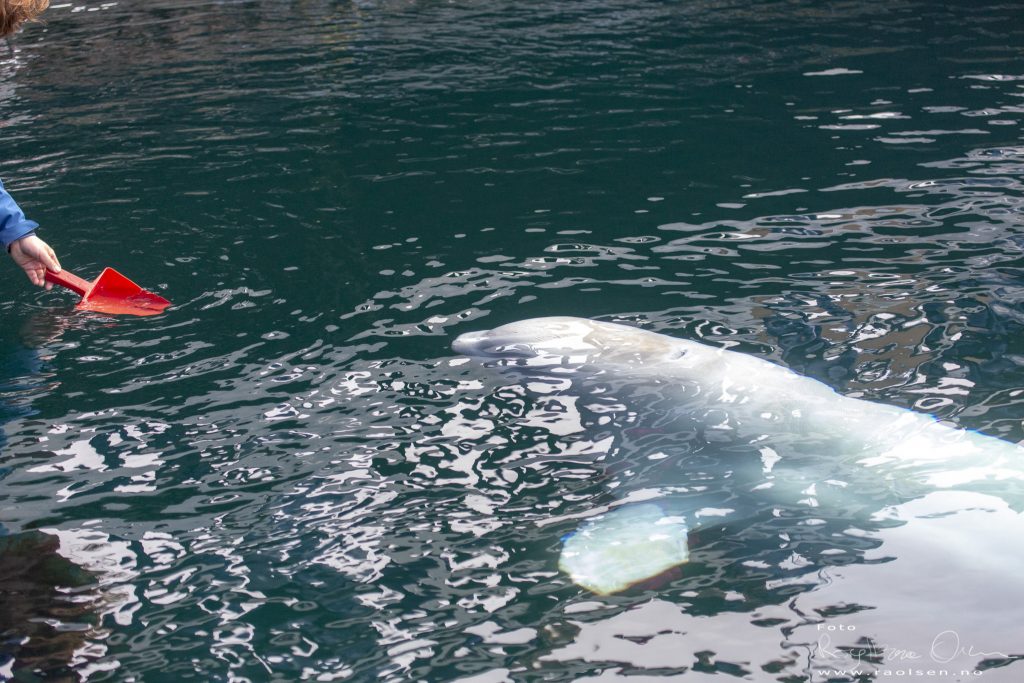 My photos
My photos were shot while I had a trip to Hammerfest with some guests from the Hurtigruten ship MS Kong Harald. While waiting there I was having a hike around the harbour with my camera to see if I could get some nice shots for my Facebook page.
My guests on the bus trip were talking about the beluga on our trip to Hammerfest and they were talking about checking out the harbour. Sadly the whale didn't turn up before the ship left the harbour with them.
Swimming with the beluga whale Hvaldimir
Despite the cold seawater in the harbour a guy decided to do a swim with the beluga whale. I'm impressed how long he was able to stay in the water before he got back onto the dock. It looked like the whale was ready to help him to get up if he got any problems.
Related posts